About Shasta Cascade Health Centers
Shasta Cascade Health Centers (SCHC) began as McCloud Healthcare Clinic, Inc. in McCloud, California in 2000 as a not-for-profit 501(c)(3) organization. SCHC is an FTCA deemed Federally Qualified Health Center (FQHC), a state licensed and independent Community Health Center, led by an independent local board of directors. SCHC is a Health Center Program grantee under 42 U.S.C. 254b, and a deemed Public Health Service employee under 42 U.S.C. 233(g)-(n). We create access for members of the community who might otherwise go without adequate healthcare. SCHC offers the following services:
Annual Physicals

Sports Physicals

School Physicals

Well-Child Checks

Pediatric Healthcare

Annual & Seasonal Immunizations

Diabetes Education and Treatment

Podiatry

Lab Services
Primary Care

Internal Medicine

Dental Services

Family Health

Women's Health

Telemedicine Specialist Consultations

Chiropractic Care

Behavioral Health

Hypnotherapy
Our Founders Dream and our Story
Mary "Bunny" Hearst-Ives was the great-granddaughter of William Randolph Hearst, the iconic businessman credited with developing America's largest newspaper and media company. Born on Easter Sunday, and therefore lovingly named Bunny, she was the force, soul, and voice behind the conception and realization of McCloud Healthcare Clinic – a new form of "Mother McCloud", which expanded to multiple clinics to serve the communities of South Siskiyou County, and is today known as Shasta Cascade Health Centers.
Bunny had a vision, a dream of providing affordable, accessible, quality healthcare in McCloud. The dream became her passion to set up a clinic to serve a community which then had no access to basic medical care in the area.
The first grant for the clinic from the Hearst Corporation was the result of the efforts of Bunny and other committed community members. Considerable personal sacrifices from community members were made. Many donated their time and money. The hard work and efforts paid off, when on Aug 1, 2000, McCloud Healthcare Clinic opened its doors to serve the healthcare needs of the McCloud.
Bunny didn't stop there, and further lead us as our first board president, to ensure we stayed true to our mission to serve the community. Unfortunately, following a long battle with cancer, she passed away at the Hearst Family Ranch in 2004 at the age of 51.
Since then, the clinic has expanded its services and centers to continue fulfilling Bunny's dream of providing affordable and accessible healthcare with dignity and respect to our underserved, rural communities. Following her vision, we expanded and added a dental clinic, behavioral health services, a new clinic in Dunsmuir, and expanded our services to Mount Shasta to meet the unmet medical, dental, and behavioral health needs of our communities.
We all follow the path of our own life and leave our footprints behind. Those footprints manifest themselves in ways we have touched and impacted the life of others in the community. The heart and soul of Shasta Cascade Health Centers is the manifestation and reflection of the way Bunny Hearst left her legacy and footprints, by touching the lives of thousands, and as we believe, still continues to do so every day.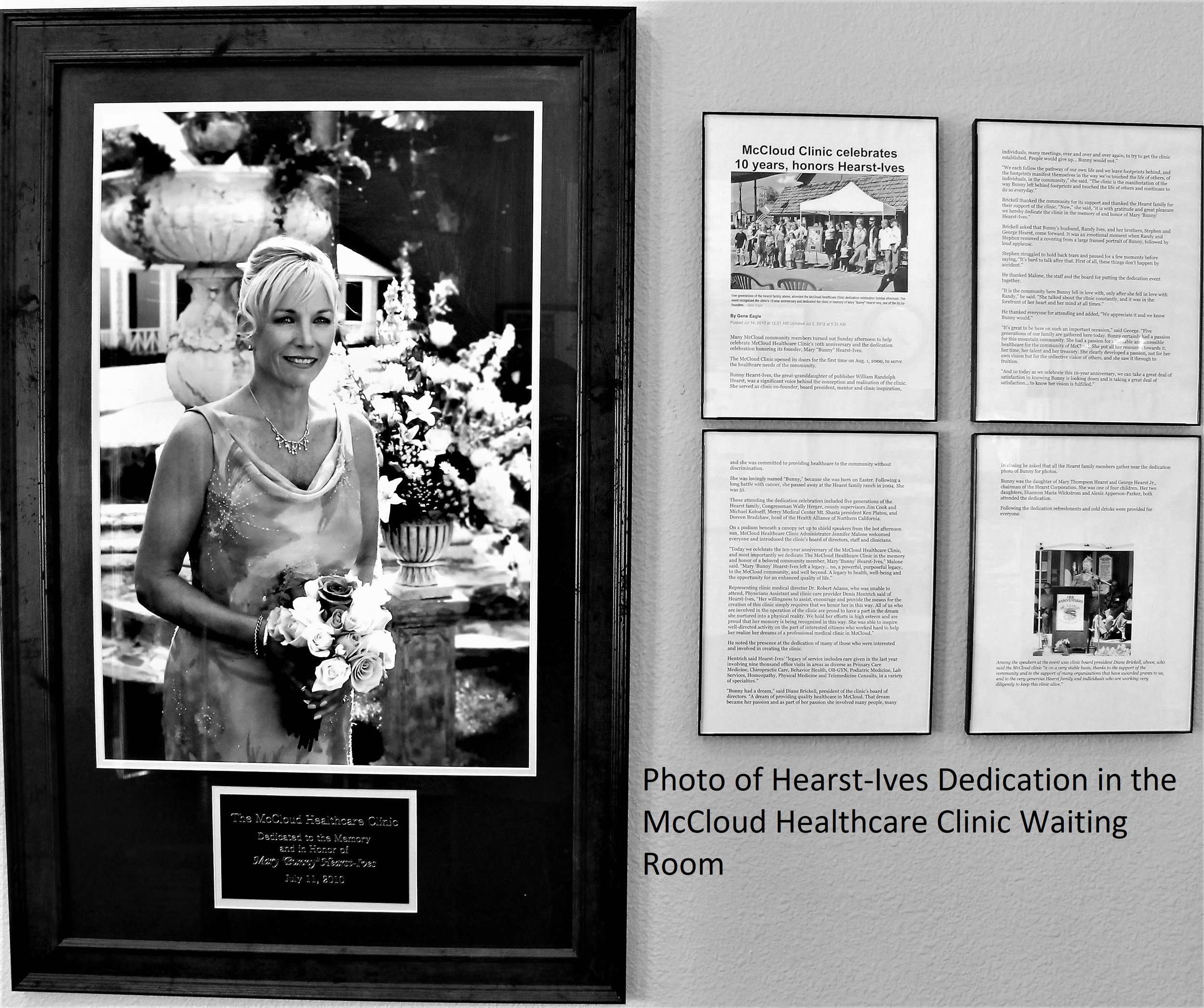 The image to the left is the dedication to Mary "Bunny" Hearst-Ives that was presented in her honor on the 10 year anniversary of the McCloud Healthcare Clinic in 2010. A link to the news article about the event can be found below:
The town of McCloud, situated on the southern slope of Mt. Shasta, is a company-built mill town with a rich past.
There are many outdoor recreation opportunities in the area. Highway 89, which runs through McCloud, leads to Lassen Volcanic National Park.
McCloud's Heritage Junction Museum on Main Street houses 100 years' worth of historical artifacts, photographs, exhibits, and McCloud's downtown area is a Nationally Registered Historic District.
Support Shasta Cascade Health Centers
Shasta Cascade Health Centers (SCHC) is a not-for-profit 501(c)(3) organization. Donations to SCHC are tax deductible under the tax code in most cases. Please consult your tax professional regarding your eligibility for a deduction through charitable donations.
Donations to SCHC help support its mission of building health communities by improving health, well-being and quality of life for everyone. Many services offered by SCHC are uncompensated and are offered for public benefit. Donations help the continued administration and growth of the services offered.
Donations the SCHC are greatly appreciated and can be accepted in the following ways:
Online: You can donate online with a credit card by using the (DONATE) button on our homepage. You will be routed through a secure donation through PayPal. The link can be found… here.
By Mail: Donations can be made by mail. Please make checks out to Shasta Cascade Health Centers and mail to: Shasta Cascade Health Centers, P.O. Box 1143, McCloud, CA 96057. A letter letting us know why you chose to support us is always appreciated!
In Person: Donations are accepted at any of our facilities in person by cash, check or money order. You can find donation envelopes at the front desk.
Amazon Smile: You can passively support us through Amazon Smile where a portion of your purchases through Amazon are donated to SCHC at no cost to you when you select us to be your organization of choice. The following link will help you set this up: smile.amazon.com/ch/68-0427383.